Construction Management
Learn How to Take Expert Meeting Minutes with These Helpful Tips
By changing the way that you take meeting minutes, this duty can serve as an extremely valuable tool to manage and organize your construction projects.
---
Taking accurate meeting minutes might just feel like a necessary obligation when it comes to your administrative operations – a duty that is maintained but can be looked over. And when taking meeting minutes, the traditional way, it's easy to forget or miss information, making a simple task somewhat frustrating.
However, by changing the way that you take your meeting minutes, this duty can serve as an extremely valuable tool to manage and organize your construction projects.
Meeting minutes don't have to just exist as an endless number of external word documents. Your minutes can be smart and intuitive while serving the purpose of being a tangible record of decisions made and next steps for your projects.
By using VPO software's meeting minute modules and capabilities, you can start taking minutes that are intuitive, fast, and accurate. To help you learn more about the ways in which VPO software can provide you with alternatives to your traditional meeting minute routines, we've summarized our unique capabilities and highlighted the top tips and tricks to help you get started.
Use Microsoft Word Templates to Create Meeting Minutes
You're most likely already using Microsoft Word to generate your company's meeting minutes, and you don't have to stop! VPO gives you the ability to use your company's branded template to create your minute meeting documents.
When you use your personalized company template in VPO, you can store the catalog of meeting minute documents right in your document library. This means that the documents will be accessible to anyone that has access permissions, eliminating the need to manually email out each minutes document to the entire team.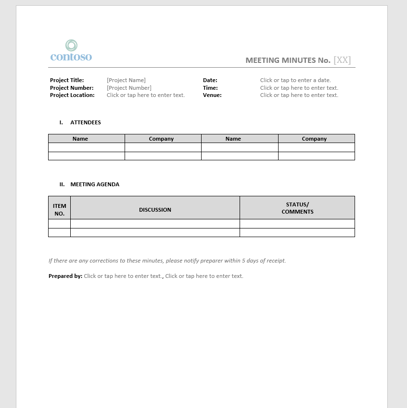 In addition to being able to format your meeting minute documents with your company's brand, VPO software also allows you to create helpful tools right in your word document to make the note-taking process quicker and easier. For example, when working on your meeting minutes in Microsoft Word through VPO, you can add automatic and master fields. Automatic and master fields can be for entries such as time, date, and attendees. Having automatic and master fields can also help speed up your process for taking meeting minutes, letting you focus on the important information you want to take note of.
When using a Microsoft Word template in the VPO document library, you can also work off your latest document if most of the structural information remains the same. So once your initial template for meeting minutes is created and customized with your company's brand, you can simply duplicate your document from your last meeting to start your next.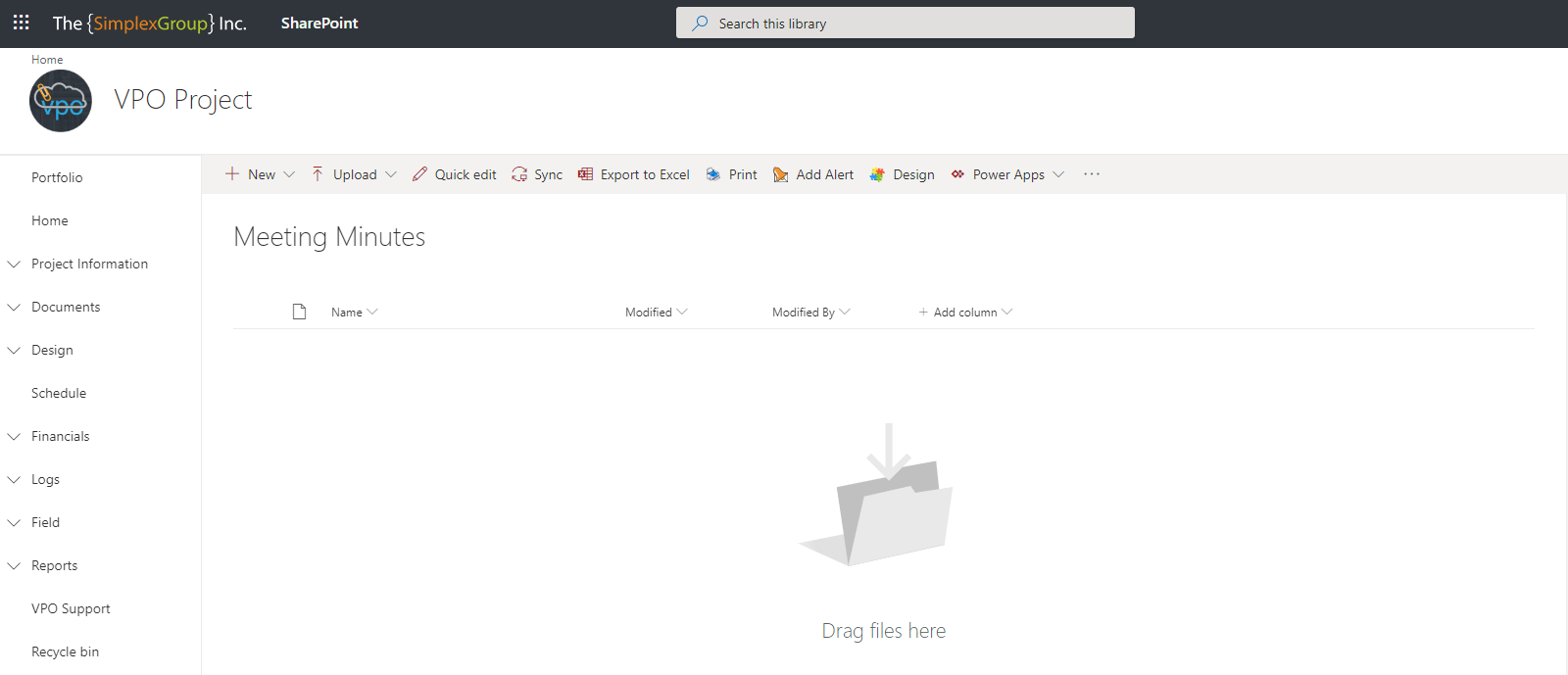 Customized VPO Modules for Meeting Minutes
If your company is looking to evolve from the traditional word document for your meeting minutes, VPO has you covered. As a customer of VPO, you can transform your meeting minutes into modules, similar to a VPO RFI module.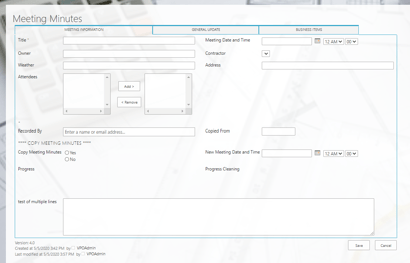 This custom-built module can transform the way that you and your team document your meeting minutes. Instead of having to format word documents, you can create custom meeting minute fields that are ready to go, so you only have to enter the important information that you want to convey from your meeting.
Additionally, by using a VPO meeting minute module, you can transform your meeting's notes to action items and agendas. Being able to send tasks, actions, and agendas directly to your team members through your meeting minutes can save you a lot of time and rework.
VPO's meeting minute modules are also extremely print friendly. The modules are pre-formatted so they're easily printable, saving you the stress of having to format for print.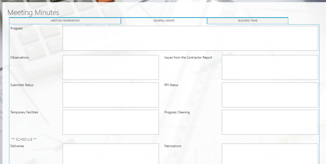 Tips & Tricks
Now that you know what your options are when it comes to upgrading your meeting minute processes with VPO, we wanted to share our top tips and tricks to becoming an expert at taking minutes. At VPO, we've worked with many companies in the construction industry, helping them stay efficient and organized, while learning a lot along the way about what's important for your administrative operations.
1. Pre-Plan meeting minutes
If possible – try and plan a set structure and agenda for your meetings. This will help you format a template that is structured in a sequential manner, giving you the ability to enter information very quickly.
2. Document action items and assignees
One of the most efficient ways to utilize your meeting minutes is to pull action items from them – make sure to remember to document who is the owner of that item as well.
3. Include links to relevant documents
It can be very helpful to link to documents right from your meeting minutes, so your team members don't have to separately search for important information. It can also be helpful to include photos or screenshots!
4. Create tables
By including tables in your meeting minutes, you can organize the important information quickly for your team to review. Tables work great for action items – your team members can quickly scan an assignee column to see what is in their pipeline.
5. Don't wait too long to send out minutes
The sooner you share meeting minutes with your team, the better. You'll want to get the minutes out especially for any individuals who weren't able to make it to the meeting. With VPO project management software, you'll be able to share the minutes almost in real-time when you use the templates and modules.
If you're looking to advance your meeting minute processes, VPO has you covered. Optimized branded templates or smart modules can transform your minutes, making you more efficient and keeping your construction projects in order.
If you want to learn more about VPO Project Management Software or would like to see how our program works in action, click the button below to watch a free demo today.