VPO
Marking Up Drawings and Documents Using Adobe Shared Review in a Collaborative Team Environment
Marking Up Drawings and Documents Using Adobe Shared Review in a Collaborative Team Environment
---
How can we mark up drawings and docs as a project team? Contributor Laura Nee, Simplex President/CEO, shares her insight.
In a collaborative project environment, it's common practice to collect comments, markups, signatures, and more on an electronic file while it's in a protected format, like a .pdf file. Within our VPO solution, you can collect multiple team members' comments using Adobe's Acrobat XI Pro application and the Shared Review process.
Here's an example: On a construction project a submittal item is submitted to multiple reviewers for their review and approval. With VPO you can track the submission of the submittal items, electronically documenting the submitted date and timestamp of the initiator, and as it is passed between party to party--always keeping up to date on where the submittal is. To mark up the submittal item using the Adobe Shared Review process you can open the item, click on the Comment button, and select Send for Shared Review.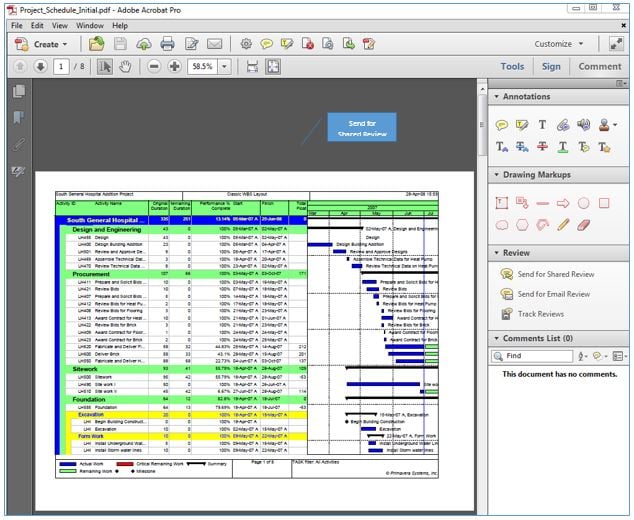 If you use Adobe Online Services to collect the comments, this provides a neutral platform for storing the comments and markups during the review process.
You can invite, via e-mail, the participants who you want as reviewers, and assign the Access Level you wish to grant to them. The reviewers do not need a full version of Adobe Acrobat XI Pro – only Adobe Acrobat 9, Adobe Reader 9 or later. You can even establish a deadline for the review process.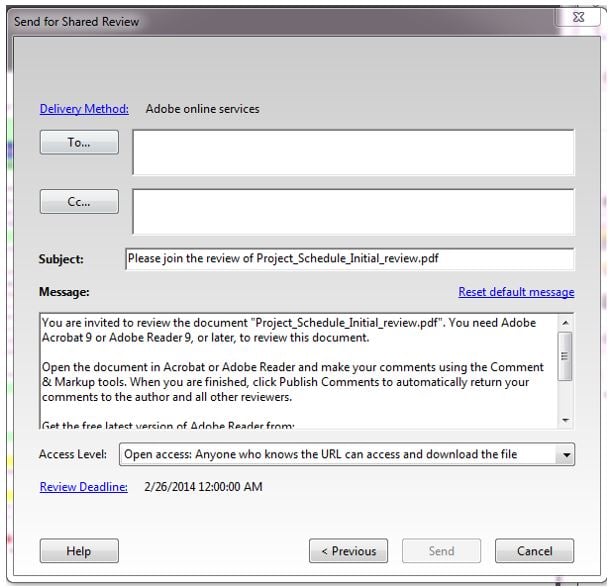 All recipients receive an e-mail notification inviting them to review the document. They may have to register with Adobe to establish an online account if they don't have one. They are then instructed to make changes to the document, and when they save their changes they are prompted to publish the changes to the document for other reviewers to see.
The individual who initiated the review process can track the review process at any time by opening the document and clicking on Track Reviews. They can also be notified in their system tray when new reviews are published.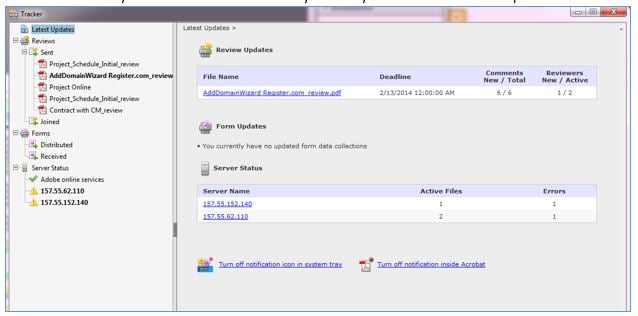 If you click on a document name and select View Comments, you will see the document with all comments published in it. You'll also see a list of each reviewer's changes.
This is a great way to keep track of real-time edits of markups of any documents or drawings--any electronic file--in a collaborative team environment.