VPO
Study: PMs Want Cloud-based Efficiency and Ease
Study: PMs Want Cloud-based Efficiency and Ease
---
Application-selection service Software Advice recently analyzed a random sample of 385 of their interactions with small-business buyers looking for new solutions for project management. We'd be happy to demonstrate how our Web-based solution, VPO, Virtual Project Office, can meet your team's specific project-management needs. In the meantime please enjoy an excerpt from their report, including some of their key findings:
---
Almost Half Using Manual Methods to Manage Projects
Nearly half of buyers in our sample were looking to replace manual methods: 46 percent were still using spreadsheets, email or pen and paper. Meanwhile, 35 percent were already using some form of project management software.
Prospective Buyers' Current Methods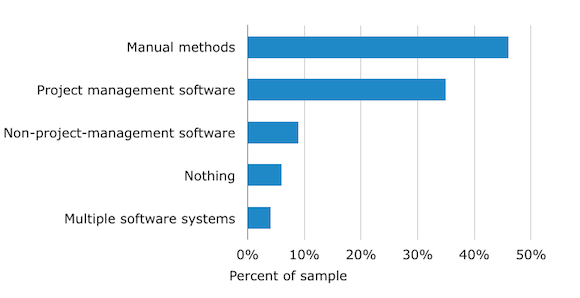 It's notable that approximately 9 percent of buyers were using a non-project-management software system to plan and track projects, and found it wasn't fully addressing their needs. These buyers mentioned using accounting software, Microsoft Outlook and time tracking applications. Six percent said they were not using anything for project management, and another 4 percent of buyers mentioned using multiple software applications.
Erika Flora is a certified Project Management Professional (PMP) and a principal at Beyond 20, a firm that provides project management training and consulting. Flora says manual methods are undesirable because of the potential for human error, and tools like Excel lack the central visibility that project dashboards and reporting features bring. In fact, one of Flora's current clients has reached the same point as many of our buyers: having outgrown manual methods, they are evaluating project management software for the first time.
"They realized that the cost to invest in the commercial project management software was potentially less than a failed project," says Flora.
All Buyers With a Preference Wanted Web-Based Deployment
The majority of buyers did not indicate a deployment preference (75 percent). However, all of the remaining 25 percent expressed a preference for Web-based deployment. There were no buyers in our sample who requested on-premise deployment.
Deployment Preferences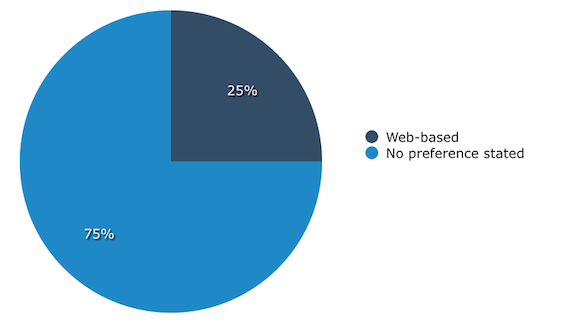 Damon Poole, an agile software development consultant for the high-tech human resources company Eliassen, says the preference for Web-based deployment is no surprise. Ever since Atlassian's Jira (a project management tool that sold Web-based offerings from the start) began its rise in popularity, similar Web-based tools have enjoyed more popularity, as well.
Now, Poole says, Web-based deployment has become the norm. Most small-business buyers, he explains, want to just go to a website and click to sign up, rather than investing in the expensive hardware and time-consuming configuration an on-premise installation requires.
Flora agrees that many small-business buyers who have limited resources want a quick, easy and cheap solution. However, she notes that companies also need to keep in mind that as they grow, they may need to transition to a more advanced system.
"A lot of times these free or cheap Cloud services are great for a period of time," says Flora. "As you get larger, you have to think about how you are going to scale [your project management tools] so you continue to be successful."