Project Management
Suffering from Version Confusion? 5 Simple Ways to Be Better at Documentation
By eliminating the time it takes for you to comb through documents the traditional way, you can re-focus and get back to the job at hand.
---
Are you searching through old documents trying to find the latest information? Are you reading documents line by line trying to remember the last update was? Are you lining up multiple drawings trying to piece together the progress? If you've answered yes to any of these questions, then you might be suffering from version confusion.
Version confusion can lead to many complex and headache inducing problems in your business. For example, if you're working off an old drawing and don't catch it right away, it can lead to extremely costly mistakes. A small crack in the foundation of your documentation process can amount to severe issues that could potentially be irredeemable.
And let's face it, all of us have experienced version confusion before. We've all had to backtrack and start from scratch plenty of times, all due to something as simple as an incorrectly labeled file. Luckily, through new technology and platforms, our industry does not have to suffer from version confusion, and the documentation process has never been easier.
To help you gain back control of your documentation management process, we've highlighted the 5 simple ways in which a cloud-based software, like VPO, can make your documentation processes simplified. By prioritizing organization in your documentation progress starting from the basics, you can create a foundation and baseline for these extremely important systems.
1. Store documentation on
a
cloud-based software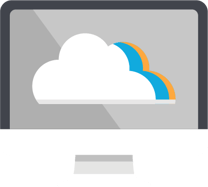 Say goodbye to your external hard drives because cloud storage is here to stay. There are many benefits of using cloud-based project management software, but one of the most valuable benefits is the ability to store all of your project documentation and drawings in one place with more organization opportunities than a filing cabinet could ever have.
When you store your documentation online within document libraries located in the VPO software, you also can have a log of who edited what and when. When many hands are involved in the same aspect of a project, it can become incredibly confusing trying to keep up with the different versions and changes. But with a software like VPO, you automatically have an audit trail of every document's progress, eliminating version confusion from the start.
When using the cloud, you also have enterprise search capabilities that will comb through the contents of a document, not just find the title–including searching PDF documents, no matter if OCR is used in the file or not.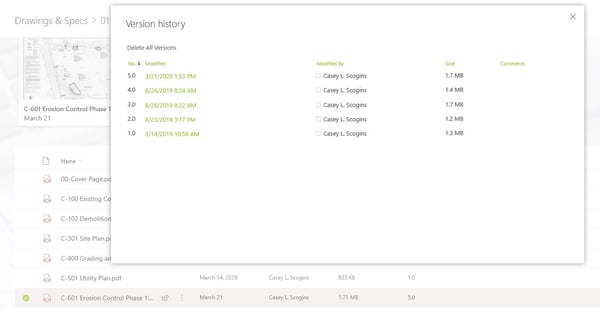 Additionally, every time a user edits an Office 365 document, a new version is created in the background. This allows you to keep track of each time someone makes a change to a document. If you don't approve an update that another team member has made, you can simply revert to a previous version, assuming you have the appropriate permissions.
2. Set up document syncing

Automatically syncing documents might sound unnecessary, but we believe that it is truly lifechanging! By allowing your documentation to automatically sync in the VPO cloud, you can assure that the latest version of your work is always uploaded, and the audit trail is updated.
Additionally, when you're offline and working in the field, the edits you make to a document while offline will automatically be updated in the cloud once you gain internet access again. No manual re-uploading is required when document syncing is turned on!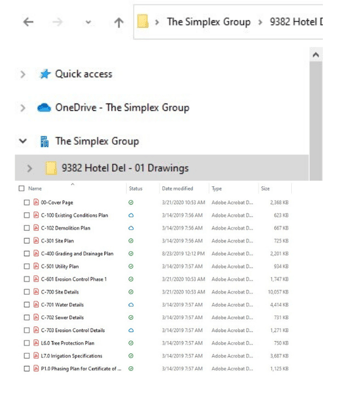 3. Separate Internal and External Documents

Another simple way to enhance your documentation management processes is to create distinct separation between your internal and external documents. By creating distinct separation between internal documents such as budget numbers and payroll, and external documents such as project drawings, you can rest assure that you won't accidentally share any confidential information with outside parties.
When using VPO's document library capabilities, you can create high-level filing systems to organize the different branches of your organization. Additionally, each user has 1 TB of file storage in Microsoft OneDrive to store any type of project file–job site photos, drawings, inspection reports, and more.

4.
Set Up Documentation Security Protocols and Distinctions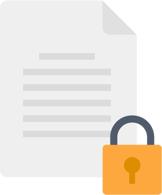 Setting up security measures can be extremely important in the construction industry, both on internal and external documents. By taking human error out of the equation and setting role-based permissions on your contracts, drawings, and budget, you can be better safe than sorry.
Additionally, by utilizing the Microsoft 365 capabilities in VPO's software, you can set extremely specific permissions on your documentation. Not only can you set security roles to your important documents, but you can also set passwords for certain documents, and even set time-sensitive passwords that expire after a specific amount of time has elapsed.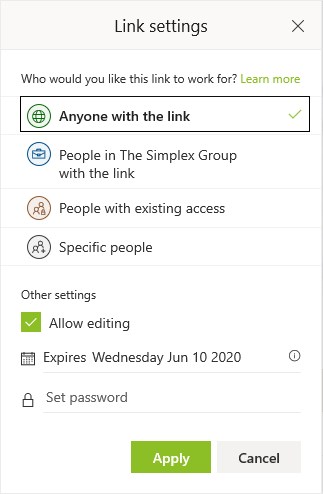 5. Go mobile!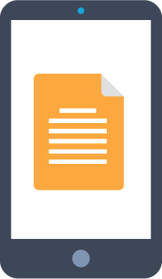 Technology and multiple devices now play a role in most everyone's daily lives, so why not integrate it in your project management and documentation management? There has been a major shift in the past few years in needing to access construction documents on-the-go. VPO software is completely mobile-functioning, and so are the documents housed in Microsoft 365. Because of this structure, you can access your documents virtually anywhere, on any device.
All industries have been moving into more of a collaborative space, and with this change comes the need for quick and easy access to the project's materials while being on-the-go. VPO software allows all parties working on a project to break free from the traditional storage silos and work collaboratively on documents.
Version confusion is a symptom that you don't have to suffer from anymore. Every project comes with a certain amount of stress, and by eliminating the time it takes for you to comb through documents the traditional way, you can re-focus and get back to the job at hand. By moving towards a cloud-based filing system and utilizing mobile technology, you can finally gain back control of your documentation progress and move forward creating a new baseline and structure for your company.
To learn more about how VPO Construction Project Management Software can help your organization restructure your documentation process and create a simpler filing system, watch a demo today.