Project Management
The 5 Benefits of Microsoft Power BI Integration
As construction projects and their requirements are continuously changing, data and insights are more important than ever.
---
As construction projects and their requirements are continuously changing, especially in the post COVID-19 world, data and insights are more important than ever. Not only is data important, but the need for continuous, timely data is critical on the jobsite.
While there is a strong need for timely data at any given moment in the construction industry, the amount of work that is required to gather that data manually is incredibly time-consuming. That's why integrating a platform like Microsoft Power BI can not only be a game-changer, but a project life saver.
As Microsoft says on their website, Power BI "Bridges the gap between data and decision making." Power BI by Microsoft lets businesses find project clarity through data, quickly and seamlessly. This platform gives visuals to both team members and executives to make decisions that are data driven.
And since VPO is a Microsoft cloud-based construction management software, we can easily integrate our platform with Microsoft Power BI. We've begun implementing this platform extension with many of our clients.
For example, a facilities management division at a university wanted better insights at a higher rate for their multiple projects. Since they manage many projects at one time all under the umbrella of the university, they needed additional software that integrated with their current systems. Power of BI by Microsoft was a perfect fit.
After implementation, our client was able to get quick snapshots of their project data in just seconds. They are now able to drill down to specific data and visually see the current status of all projects at a glance.
Since our clients are seeing great results with Microsoft Power BI, we wanted to compile the top benefits and capabilities that this software brings to the table and discuss the advantages that easy data visualization gives to the construction industry.
1. Intelligent and
d
ynamic
d
ata
One of the major benefits of utilizing Microsoft Power BI is the dynamic and intelligent data visuals. For example, if you have multiple graphs and charts highlighting elements for one project, when you manipulate one of the entries on one graph, all the other corresponding charts and graphs will respond to that update and refresh themselves.
This allows a "set it and forget it" mentality after the initial data set-up is completed for a project. It also eliminates the need for quality assurance checks on every element when you make a minor update, or a large update to your data source.
Additionally, a platform like Microsoft Power BI lets you get up-to-the-minute analysis opportunities. Since the data is constantly refreshing from your sources, like Microsoft Excel, you can pull relative data at any time or when you're in a rush.
And if you're managing multiple projects in multiple facilities, having the ability to rely on data that is not just accurate, but intelligent, is a valuable advantage.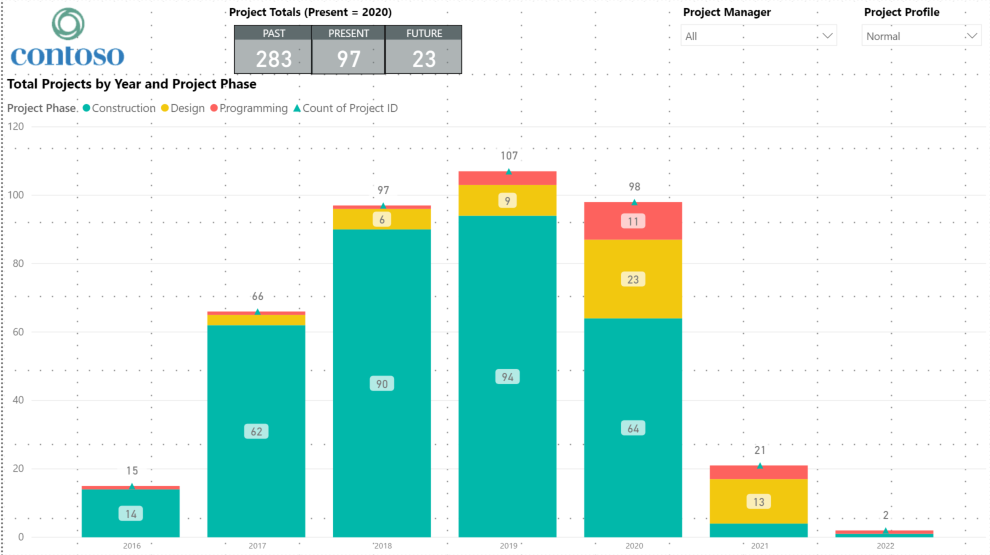 2. Completely
c
ustomizable
v
isuals
No matter the complexity of the project, Microsoft Power BI provides you with an array of graphs, charts, and models to create a unique data experience. You can personalize your project data with important KPIs, timelines, and more. You also have the ability to use your unique project branding to know exactly what you're looking for at a quick glance.
3. Advanced
f
iltering for
d
rilling
d
own
i
mportant
f
actors
One of the key benefits of integrating Microsoft Power BI is the ability to practice advanced filtering on the data visuals to discover important measurements and factors for each project. Since our clients utilize Power BI for many different projects, they needed a software that would allow them to sort through a lot of varying data to analyze specific elements of each project.
For example, with Microsoft Power BI, you can filter your data visuals by any key element such as the date, timeline, project owner, status etc. This benefit allows a project owner or team to create customized specific reports for executives and project leaders depending on the current task at hand.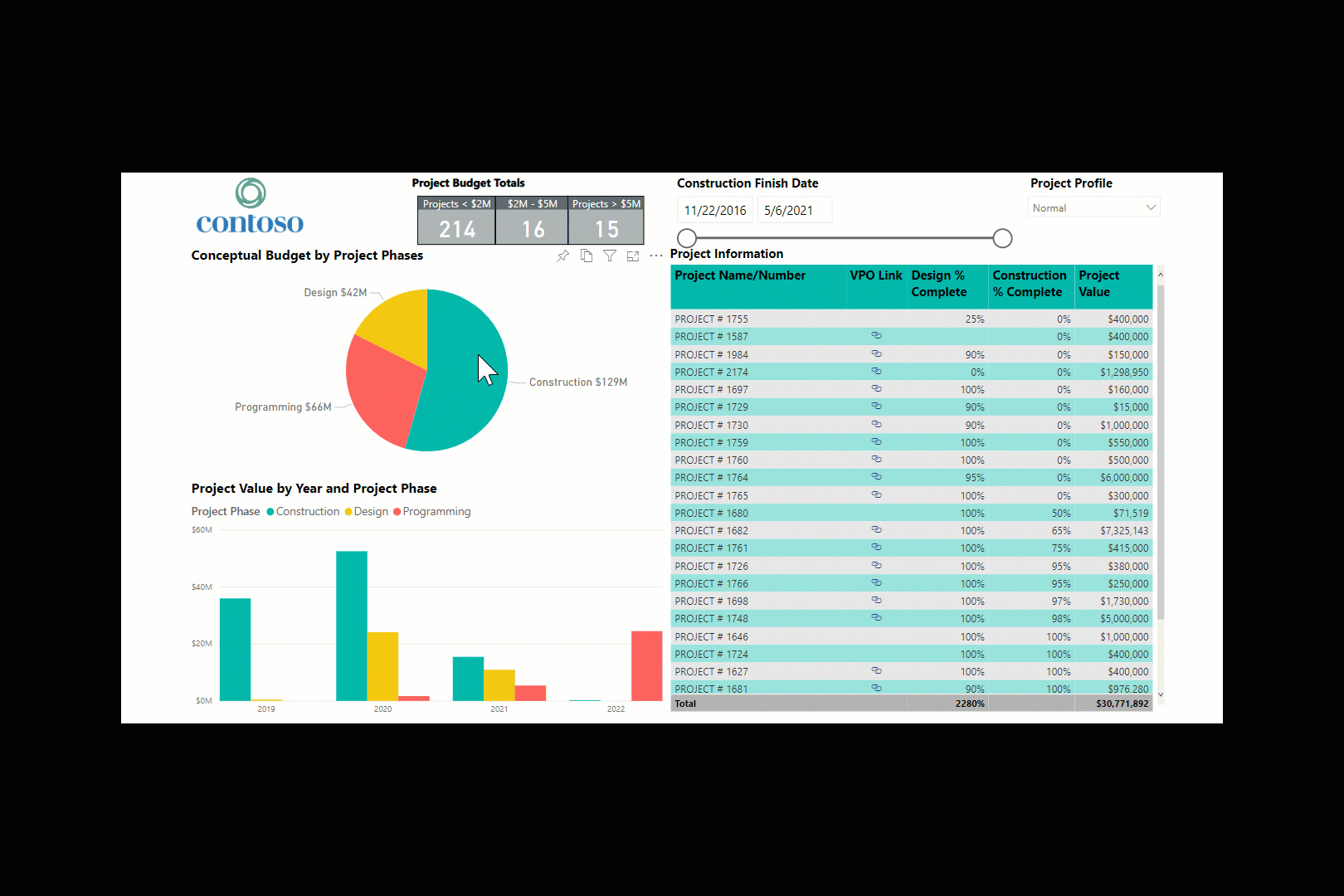 4. [Integrations] VPO
s
oftware, Microsoft Excel, &
m
obile
Now, you might be under the impression that Microsoft Power BI is its own entity, but that is not exactly the case. Power BI is incredibly malleable and can integrate with any of your Microsoft projects. And since VPO is a cloud-based software that is housed in Microsoft 365, Power BI is completely compatible with your existing VPO set-up.
If you're already a VPO customer, you can directly link your projects from VPO to Power BI and vice versa. Additionally, you can also embed projects directly into your Power BI dashboard from your VPO project dashboard. This allows your real-time Power BI data to integrate seamlessly through SharePoint.
And since you're most likely already housing your project data in excel sheets, your Power BI dashboard can seamlessly connect to your excel queries, data models, and reports to easily update your data visuals in new ways.
Not only can Microsoft Power BI integrate with your existing VPO project management software and excel data, but it is also mobile compatible. This means that when you're on the go, and even offline, you can view the latest update of your project data, and even make updates that will sync automatically once you're back online.
5. Over

view

snapshots of multiple projects
Microsoft Power BI also allows you to receive quick snapshots of your project data. You can easily set up overviews of your reporting to highlight key factors such as key influencers, top segments, and timelines.
This can also be beneficial for presentations to owners and executives. The ability to present your data visually and quickly is invaluable, especially when adhering to tight deadlines and quick turnarounds.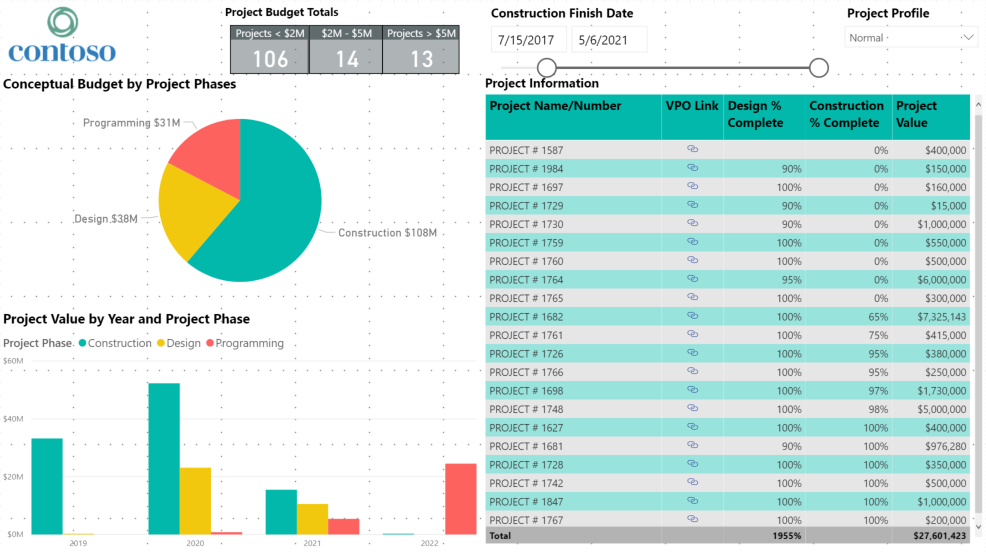 It's now more important than ever to utilize data in your day-to-day operations to try and stay ahead of the curve. Microsoft Power BI can empower your team in strategic decision making and make your data truly meaningful.
If you're already using VPO Project Management Software and are interested in integrating Microsoft Power BI, reach out to us today! And if you aren't currently a VPO customer, click the button below to watch a free demo.