VPO
Using Timesheets for Better Estimating
Using Timesheets for Better Estimating
---
What's the value in using Timesheets? Contributor Laura Nee, Simplex President/CEO shares her insight.
One of the biggest challenges on a project is accurately planning the amount of time it's going to take for someone to complete a task. By nature, people tend to think, optimistically, that they can get a task done sooner than is really possible. When building an estimate myself, I'll ask my team how long it will take to complete a task, and then double it! Estimating is difficult. What can help is using a project management system the way it's designed--for tracking how long it actually takes someone to complete a task, comparing it to what was planned, and then revising your template so that the next time you plan a similar task, you are using a helpful estimate.
Tracking your team's time can be a challenge. We spend so much effort developing the perfect project plan, and baselining it, and then often we don't keep up with the updates. Having a project manager update the project plan can become a bottleneck. Why not let the people who are doing the tasks update their own tasks? Using a formal timesheet tool can help. This is not only helpful for delegating the updating process; you will also get more accurate data--especially if you can get people to track their time daily as it happens, and track issues and risks as they come up. This will aid in your last step of managing a project--updating your lessons learned!
Below is a snapshot of a timesheet. It can easily track your resources' time on a daily basis, and give them the ability to status tasks, update their hours, log issues, risks, and make comments.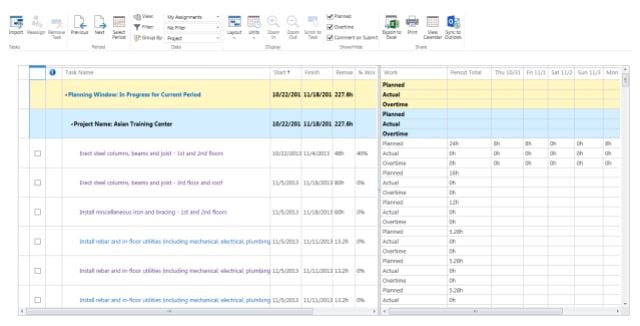 So many people skip this step, but it can be the most important step in project management. Once the project is complete, go back through the data and learn the trends that occurred. Then you can update your estimating template, and have more accurate data for the next time you manage a similar project.