What information does Booth
411 have for you?

We've been improving construction management through tech since 1984, so the VPO team understands how important--and how challenging--it is to complete builds on time, on budget, and on good terms. We'd be glad to share our full-service, Microsoft 365-based solution with you, and we'd like to learn about your team's unique goals and requirements.
Visit our CMAA 2022 exhibit booth, right next to our customer Anser Advisory's
, to:
View real-time VPO dashboards as they roll up data from attendees' Field Reports


Accept a gift from the VPO team


Enter our drawing for this remote-working prize pack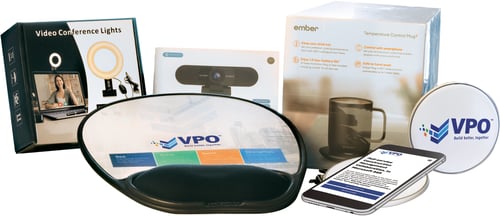 Come say howdy!

We look forward to exploring how VPO software and services could make a difference for your organization.
With VPO, you're not just getting a product. You're getting a partner.
Project frustrations may be common, but every customer is unique. That's why flexibility is one of our greatest strengths. Together, we customize VPO to streamline and enforce your processes, supercharging the whole team's CM success.

Maybe you're someone who already sees a way to improve your process, and you just want to get it implemented. You don't want to have to ask Big Software to consider adopting your idea, and then wait months or even years until they roll it out.

With VPO as your full-service provider, you get not only flexibility and agility, but also training, software administration, and user support for all your participants--whether they're internal or external to your organization.
Our team created VPO, but it isn't our solution. VPO is yours.
We understand. We're with you. We've got this.
READ, WATCH, CONNECT
More Videos, Demos, Blog, FAQ, Webinars, News & Success Stories