Bowen Collins & Associates: Boosting Construction Management Efficiency, Saving Time
Implement VPO's Construction Project Management platform, including the Submittal, Request for Information, Change Order, Field Management, and Payment modules.
---
Bowen Collins & Associates, Inc., is a Utah- and Idaho-based design, engineering, and construction management firm that provides professional services related to water, wastewater, electrical, environmental, transportation, and general construction projects. Although design and engineering services constitute a large part of the company's business, managing construction represents a growing business sector.
---
Challenge:
Streamline construction project workflows and automate construction management activities by improving the effectiveness of communications in real time using Microsoft® 365 business applications in order to minimize construction delays, avoid unnecessary costs, and fully document construction activities.
Solution:
Implement the VPO Construction Project Management cloud-based platform, including the Submittal, Request for Information, Change Order, Field Management, and Payment modules, as well as custom-developed Field Order and Archiving modules.
Results:
Managed 25 projects with VPO in the first two years.
Formalized construction project workflows and automated communications.
Saved time and money via real-time, cloud-based construction management.
Supported business growth.
---
While the firm is able to bring its specialized experience in unique construction projects—such as flood control and drainage facilities; pipelines, pump stations, wells, reservoirs, and canals; wastewater treatment and collection facilities; and general construction and electrical instrumentation improvements—to construction management, Bowen Collins needed a more effective solution for managing the day-to-day activities of contractors on construction projects, according to Construction Management Lead Brian Mecham.
"We had been using Microsoft 365 tools—like Word documents and Excel spreadsheets—and email in a manual, unintegrated fashion to manage construction project workflows and communications," Mecham recalls. "As our construction management business continued to grow—and we had more projects to manage concurrently—we began looking for a better, more organized, single-platform solution. In 2018, we reached out to four or five possible vendors of construction project management solutions to gain an understanding of what our solution would look like, what would work best for Bowen Collins' needs, and what it would cost."
In addition to seeking an integrated construction project management solution, Bowen Collins wanted much more than a one-size-fits-all, out-of-the-box, generic construction management software and was looking for a business partner that could customize its solutions and configure its interfaces and applications to meet the company's individual requirements. "We wanted to encapsulate all of project management within a single solution," Mecham notes.
"However, while all of the vendors could handle the basics of processing submittals and change orders, we wanted a solution that was more customizable, so we could handle activities that are distinct to us, such as documenting field orders and archiving all of our project workflows, activities, correspondence, and communications," Mecham adds. "We found the partner able to deliver that solution in VPO."
Bowen Collins chose VPO Construction Project Management software because the solution is cloud-based; operates on smartphones, tablets, and laptops; and leverages Microsoft 365 business productivity solutions, which the company already had in place. The firm further valued VPO's ability to develop custom Field Order and Archiving modules—for handling field orders and archiving all project activities and communications—in addition to providing its standard Submittal, Request for Information, Field Management, and Payment capabilities.
"We needed to open up access to project communications with clients to save time without relying on private email because of data size limitations on email attachments," Mecham explains. "But, more importantly, we needed a single system that could streamline workflows and automate communications while still providing the flexibility to add capabilities special to us and administer user access, edit, and control rights for clients, vendors, and contractors on a project-to-project basis. VPO could meet all of our requirements."
STREAMLINING PROJECT WORKFLOWS, SUPPORTING GROWTH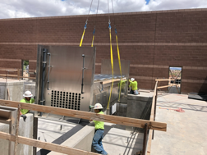 Bowen Collins launched its VPO Construction Project Management platform in May 2018 to manage a $40 million upgrade to a wastewater treatment facility in St. George, Utah. The firm's experience on that first project validated the VPO solution's ability to save the firm time and money by formalizing different workflows and automating project communications and activities. The company's success in using VPO software on the St. George project gave management and staff the confidence to rely on the solution to streamline construction management activities on all Bowen Collins projects.
In the first two years since implementing the VPO construction project management solution, Bowen Collins expanded its use company-wide and managed a total of 25 different projects, ranging in size up to a $500 million Utah Department of Transportation project, since adopting the software. "It's pretty easy to begin a construction management project with VPO once we have a contractor on board," Mecham stresses. "We simply create a directory of people involved with the project—including the client/owner, contractor, project manager, and subcontractors—and customize access and change authorization rights, and we're ready to go.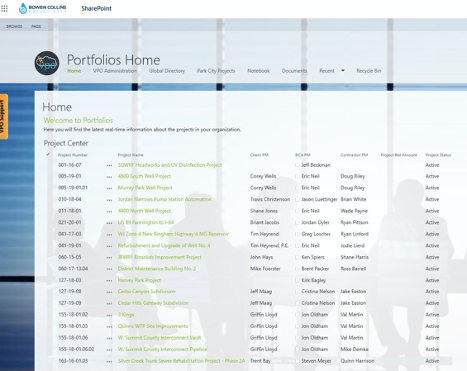 "Our industry and company are growing, so we have to be more efficient and find ways to maximize resource utilization to take on additional projects," Mecham continues. "While it's difficult to document, we know that the VPO construction project management solution saves us a lot of time. I personally can manage four to six medium size projects from a single laptop. Not only am I more efficient with VPO, everyone involved in a construction project is more efficient because communications are automated and workflows are streamlined."
THE BALL'S IN YOUR COURT
After configuring users from the construction project management team for a project in VPO, Bowen Collins uses the VPO solution to process all submittals, reviews, and approvals, which are required for everything from the equipment and materials to be brought on site to geotechnical, structural, and electrical engineering reports. When a workflow task has been completed, the system generates and sends an automated "ball in your court" email message to all parties involved in the next task in the workflow, and sets deadlines for the completion of tasks.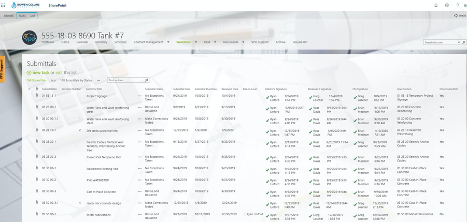 With this level of workflow automation and project information access and control, Bowen Collins project managers can issue daily reports, circulate inspection reports for review/approval, and maintain a library of all documentation for each project, without encountering delays related to tracking someone down to get access to a document or obtain other pieces of information. This is how Mecham can access information and manage a construction project in Utah while he is physically on another construction site in Idaho.
"VPO has automated and tightened up our communications quickly and easily, which makes us a lot more efficient," Mecham says. "When I first started working here, we dealt with paper and our primary tool was an ink stamp that we used to stamp the date and time on every document before adding comments and circulating it manually. Now, everything is documented and controlled in a digital environment with real-time access 24/7 from anywhere."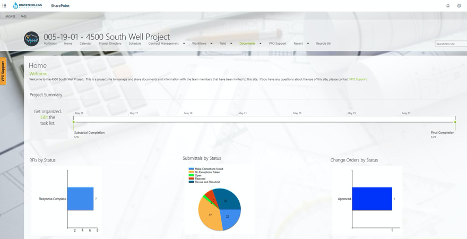 Bowen Collins uses its VPO construction project management platform to process requests for information, change orders, and payments for every project, but also utilizes a custom-designed VPO Field Order capability to process field orders (which differ from change orders by generally not requiring an increase in costs). "Change orders require authorization from the client because they add costs to the project, but field orders are necessary changes that generally don't cost anything: like moving the location of an architectural boulder because it's blocking a utility meter," Mecham explains.
"With VPO, we can obtain approval to move the boulder without waiting several days to get the OK from a client who is traveling out of the country," Mecham adds. "Because everyone on the construction team can access the latest project status and information, delays related to finding information or tracking someone down disappear."
DOCUMENTING, ARCHIVING PROJECT COMMUNICATIONS AND ACTIVITIES

Although the VPO construction project management solution establishes a document library that is shared among all involved parties on a project, Bowen Collins requested a method for not only sharing documents but also archiving all documents, workflows, communications, tasks, and activities from a project so they can be delivered to clients upon request. In addition to the test reports, meeting minutes, photographs, and other documents maintained in VPO, Bowen Collins wanted a complete detailed, documented timeline and record of all information related to a project both for its own reference and to satisfy customer demand.
"One of the goals of our initial interest in a construction project management solution was making the process more open to clients and avoiding the need to repeatedly send documents back and forth via email," Mecham recalls. "Some decisions involve the owner, such as a request for information or authorization of a change order, which is why client access is important.
"In the old days, we would make blueprints, which clients would store in cabinets and look at when there was something to fix," Mecham continues. "Because of the ease and familiarity of working in a digital environment, today's clients want to know about everything involved with a project and many of them want to save a complete project record, which we're able to provide with our custom Archiving module. With VPO, we've streamlined our workflows, improved communications with clients and contractors, and have realized an effective quality control function in the process."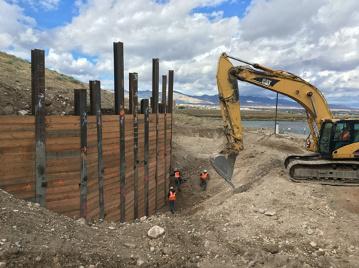 Want to hear more from Brian & Bowen Collins & Associates? Check out their webinar: Streamlining Construction Management and Maximizing Efficiency: A Bowen Collins & Associates Success Story