[New] Ball-In-Court and Cc Renotify Toggle for VPO Customers in Modern
In VPO construction management software and services, customers in Microsoft SharePoint's Modern experience now benefit from Ball-in-Court and Cc Renotify.
---
For VPO customers in Modern, there's now a Ball-In-Court and Cc Renotify Toggle Button!

We've added a new feature to all workflow forms--forms where you have an option to assign a Ball-In-Court (BIC), and Cc others informationally.
Table of Contents
Until now, a notification email would be sent from VPO to the BIC and any Cc'ed individuals only when the BIC or Cc fields were changed. But there may be times when you change some of the details within a workflow record while making no change to the BIC, and you need the current BIC to review those changes. This is when the new Renotify toggle button can be used, triggering a notification email to the existing BIC and Cc(s) which identifies the changes you've made.
How Does It Work?
You will only see the Renotify button on an existing workflow form where a BIC has been entered, and it will only be available when a user is editing that form.
1. Go to an existing workflow form--with a BIC--that you want to update, and select Edit to enter your changes to the form.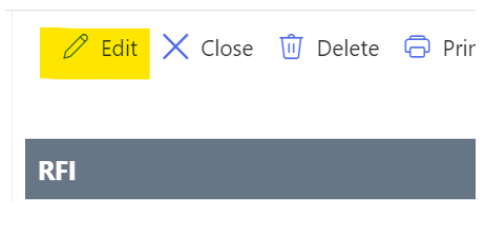 2. You'll be able to toggle the Renotify button. Make your changes to the underlying form; toggle Renotify to Yes; click Save on the record. This will launch the new notification email to the existing BIC and Cc(s).