VPO Creates a Workspace for University of Pittsburgh
Pitt assistant vice chancellor turns to VPO for a customized construction project management software solution, powered by the Microsoft Office 365 apps
---
Pitt assistant vice chancellor turns to VPO for a customized construction project management software solution, powered by the Microsoft 365 apps his team already uses.
---
Challenge:
Find a construction project management solution at the right budget while utilizing Microsoft® 365 business applications with customizable, scalable solutions.
Solution:
Implement the VPO Construction Project Management cloud-based platform, and customize it to focus on administrative reporting and real-time access to project information from a dashboard viewpoint.
Results:
Formalized a portfolio of projects.
Reduced delays with real-time access to project information from a dashboard viewpoint.
Supported useful decision making and management of workloads both on individual projects and across the portfolio.
Translated data robustly to tackle workload management.
---
Overview
Owen Cooks is the assistant vice chancellor of planning, design and construction at the University of Pittsburgh. He oversees those three business units and an annual $100 million capital projects budget for the 145-acre main campus in the Pittsburgh neighborhood of Oakland, as well as four western Pennsylvanian regional campuses, which comprise 400 existing buildings.
What does Cooks like about Pitt?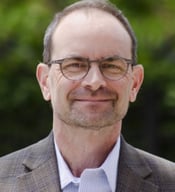 "I've worked at two other higher ed institutions, all very different from each other – small, large, public, and Pitt, which is a public-private hybrid.  Pitt is a unique place. We've got a densely urban campus. We've got a medical school, which is its own entity. The sheer variety of projects is very enriching."
The university recently unveiled its 30-year Campus Master Plan (CMP) for the main campus, which will take his annual construction budget to $300 million over the next four years. According to Pitt, the CMP illustrates "how the institution's Pittsburgh campus can evolve over time in a way that supports academic excellence, the student experience, and connection to the community."
Like the master plans of a lot of institutions, it's the structural framework of what the capital priorities are right now: delicately balanced for the short, medium, and long terms in order to ensure that the cash flow targets meet current and future needs.
New short-term projects include a human performance complex with a training facility and an indoor track, student housing, and a recreation and wellness center.
Marshaling Construction Project Management Resources
When Cooks joined Pitt four years ago from Winston-Salem State University in North Carolina, he began to anticipate the upswing in new construction and renovations.  At that time, Pitt didn't yet have a project management (PM) strategy to manage its large and sophisticated portfolio of projects.
His department used various Microsoft 365 apps such as Excel, Access and Project. Their Access database was built over a period of years, and although Cooks was thrilled to bolt on to the university's financial system, the database wasn't robust enough to track a portfolio of projects.  There was a lot of attribute data that needed to be tracked from approval processes. What Cooks' department had cobbled together wasn't a CPM scheduling tool, and it didn't have the sophistication that he needed to manage projects, especially at the portfolio level.
Pitt was in need of a construction project management solution, but had a limited budget.
"We didn't want to go with a traditional company like e-Builder,  Asset Works, or one of the big box products – which have a lot of PM features to manage capital projects, but also a lot of features we didn't need such as inventory management, warehousing, and space management," said Cooks.  "I wasn't sure if those larger tools were scalable for what we were required to accomplish."
Solution
The construction project management software VPO, created by The Simplex Group, also located in Pittsburgh, balanced the familiarity his staff had with Microsoft 365 apps and their need for CPM scheduling and the ability to manage a portfolio in a database that would allow for the creation of the linkages needed across scheduling attribute data. The initial rollout, which Cooks calls VPO.1, focused on administrative reporting – and gave his department, which includes 25 project managers, the data they needed for decision making and managing workloads both on individual projects and across the portfolio.
Cooks says that real-time access to project information from a dashboard viewpoint has been very helpful, especially when it comes to reducing delays.
"Everything is within the realm of implementation with VPO."

~Owen Cooks
Assistant Vice Chancellor of Design and Construction
University of Pittsburgh
"If I'm out of the office and if somebody wants to know about a bid on a project, that information is available right there on my phone. I'm not going to have to chase down a project manager who may be unavailable," he said.  "The ability to run what-if reports on how many projects we have bidding next week, for example, really helps. We will then be able to translate that data into a more robust way to tackle workload management."
Customize and Collaborate with VPO
Cooks values the customization, functionality, and scalability of VPO:" Laura Nee and her team at VPO helped us pick the priorities based on where our greatest needs were. My staff was used to doing things a certain way, so we needed to take baby steps. VPO is scaled in a way that allows this kind of flexible implementation. So we coined our implementation plan VPO.1  Now featured in our VPO.2 version is status updates and reports and document management project sites, which offer greater collaboration between Pitt PMs and business partners."
Now that VPO has been implemented internally, they've opened it up to their business partners – construction managers, contractors, architects and engineers – and others on campus to share in VPO's functionality, with positive results.  "Our ability to create a collaborative space with VPO with our business partners on the design and construction side, it just really helps.
"It's pretty easy on a large project to adopt what any chosen business partner may be using and go under their fold. But what we lose when we do that is our portfolio tracking. And then there's an extra step for our PMs because now they have to get information from Newforma, Procore or e-Builder that they're managing through VPO," Cooks said. "So we've shifted the burden to the contractor or business partner who may be using those other platforms.  It's now their responsibility to keep two systems up to date, not ours. Quite simply, I tell them – we're using VPO, we're giving you licenses to VPO, and VPO is our stated tool.
"Working with the VPO team has been great. I mean, they're extremely responsive. Like a lot of sophisticated owners, I'm sure we were very challenging as a client and part of those challenges are inherent in our business model. I'm not building 100 Cookie-cutter retail stores. We've got to deal with site constraints. Our product is extremely varied. We needed an open system that could deal with that variety. That's something that we found extremely helpful in VPO.  We need a blank slate in order to achieve the objectives of managing these very disparate projects.
"I just know at a high level, after having worked with those other systems at other universities, that those big out-of-the-box products like an e-Builder or Asset Works come with less customization. You've got to stick with what you get out of the box. There's also a lot more overhead in terms of maintenance on the owner side.
"VPO is a nice blend. We can customize most things we want.  It just feels a little easier. It's also easier to deal with somebody local who's very hands-on with a solution and who can be in my office this afternoon.  I'm not dealing with a rep in a regional office somewhere. That's an additional value point for us."
"My staff was used to doing things a certain way,
so we needed to take baby steps."
Even though VPO is delivered in Microsoft 365 business apps, the tools that Cooks' department was already familiar with, it's been a difficult transition.
"When you go from everyone doing their own thing and their own way to putting up some rails, it comes with a lot of churn. It took a good year to get people on board. So it's hard to convince a PM – who's just trying to do their job and get their projects done – to make him or her aware of the value of the information they possess and the importance of that information to me and other decision-makers across a portfolio of projects.
"'What should I budget when I go ask the provost for money my office renovation?' is a common question I get.  Some of these projects never come to fruition. The beauty of VPO is that I'm not taking a PM out of production to calculate costs on something that may never materialize. Having all the projects in VPO gives decision makers an instant repository to access historical data.
"So, the challenge is that the utility of some of the information that I require PMs to maintain does not directly benefit them, their client, or their project – but it directly benefits the portfolio of projects and future projects that we have to manage in our pipeline.
"Implementing VPO has been a process of discovery that I have to say, overall, has been successful
for meeting our needs and what we want to have as a rolling implementation of a project
management system.
"We've had unlimited hours of role-based training, and VPO's support ticket system is a great tool for our people to use. As much as possible, I would like to build an internal support system for it as well. And I think once we've codified some of the natural processes, that system will evolve."
Results
"I know a lot of these systems – whether project management or just asset management in general – every customization comes with a price tag," Cooks said. Every support call comes with a dollar sign, and that can add up, killing your ROI.  But the architecture with which VPO has set up the delivery of this support system is very beneficial for us."
Cooks hasn't done an ROI calculation on VPO. He says it's not an easy calculation to perform, considering their baseline and their rolling implementation strategy, which requires a continual reinvestment of additional programming and coding by the VPO team.
He believes that his ROI is more qualitative than quantitative, particularly on the financial side, but Cooks is comfortable with the space that his department is in right now and with the investment they've made and continue to make in their rolling VPO implementation strategy.
Postscript: Higher Ed Construction Project Management as an Art and Science
"I think particularly in a higher ed construction environment, you need a lot more heart than you do the science of project management, Cooks said.
"When you're dealing with professors who are absolutely entrenched in research, I'm trying to pull them up and out of that mindset to make decisions about a building project that they have to live with for 20 years – and they've never done something like this before. Perhaps they put a room addition on their home, which is an entirely incomparable experience.
"I like to have rails so that I'm delivering what I hope is consistent service for the provosts and deans, and at the same time, leverage the strengths and talents that my staff brings to solve the same problems but in different ways.
"What VPO does as a tool is it supports me in keeping those rails flexible to a point so that I can let those different approaches to project management shine through. I have the tool I need to support university decision-makers and my department, in terms of what we need for reporting and managing projects. "
Owen Cooks believes that's a real sweet spot that VPO occupies in the market, particularly if you're an adherent to his philosophy of project management as an art AND science.
Interested in learning more? Speak with one of our experts.
Related Topics:
Integrating Microsoft Office 365 into Construction Project Management Workflows
VPO vs. e-Builder and Procore – A Comparison