What Makes VPO the Best Project Management Software for Owners?
*Take software administration off your plate – easy installation, customization, and full training & support *Own your data *Standardize your projects
---
Take software administration off your plate – easy installation, customization and full training & support
Own your data – all of your data, securely in one system
Standardize your projects – track and report on consistent metrics across all of your projects
The most powerful enabler in business is trust. Trust fundamentally anchors relationships. Whatever your position on the organization chart and whatever defines your responsibilities with your team, (who's reporting to whom), strong relationships are counted on to consistently deliver the truth and continually refine and improve performance.
There are few scenarios that make this concept more obvious than managing complex and capital-intensive building projects. Every company is intimately acquainted with trust relationships up and down their supply chain and throughout all the communications, verifications, and required reporting between vendors, suppliers, and crews. Consolidating and streamlining these moving parts and stakeholders can be a real challenge for owners and facilities directors, especially when each vendor is using a different system or software. The truth is, not every company is ready to recognize when a better solution can help them move forward.
It pays to remember that investments in the right technology tools deliver real process improvements that drive profits. Project management software is one of those tools. While it can be an incredible process enabler, there are hundreds of construction software packages and suppliers vying for your attention with competing claims on how good they are or how easy they are to work with. Rather than wait for a downturn or, worse yet, a crisis to force you into a rushing a decision, planning to be in the position to improve is key. Here are a few suggestions.
Always Be Researching
Like leading industrial and business giants, there should be a percentage of your time and budget devoted to R&D to keep your vision focused on the future and your business moving forward. There's no substitute for doing the legwork to research a type of technology improvement and how it fits into your business before committing to a pilot program. Establish and involve an R&D team for targeting technology suppliers, collecting performance reviews from businesses similar to yours, and requesting tech demos before investing. If the hurdles are too high and the technology demands too many changes to company infrastructure, it is a significant liability masquerading as an asset.
Another useful practice is to avoid technology for technology's sake. If things are already running smoothly, it pays not to immediately change a winning game but rather focus on problem-solving. Identify what is slowing you or your team down and what tech recommendations are available to help with it.
Such exercises can themselves become the drivers for the communications and organization improvements you seek. Share R&D results with key company stakeholders to assess improvements and requisite costs. Design a pilot project with key milestones and reporting requirements.
Establish Solid Foundations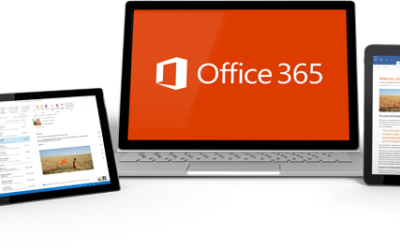 All said, construction management software can be an incredibly powerful answer to project improvement needs. With 35+ years' experience, VPO is construction project management software working from a strong foundation. We realized early on that our clients' project information was not being organized successfully for collaborative use. Many project team members were storing vital documents in disparate places–on a file server, their desktop, an FTP site, in email. . .on cocktail napkins!
And the challenge we found even more interesting was that project information didn't only need to be shared logically among people on an internal project team. It was often external collaborators whose project information required the most re-organization.
We've found a go-with-what-you-know approach works very well. By leveraging leading Cloud-based solutions from Microsoft's Office 365 suite, and combining them with our project management expertise and content, we've packaged a scalable project management system that works for small, fast-paced projects as well as for large, complex projects–and for a combination of both. We're able to deploy VPO quickly by using proven content that can be customized for the client and enhanced over time to develop a system that is truly built for the customer.
First, let's be clear what Office 365 is. It is not just the desktop applications of Microsoft Office like Outlook, Word, and Excel. It is also Microsoft's managed services for hosted email, file sharing, online meetings, and more. If your company is using Office 365, we can simply install our VPO application within your company's Office 365 environment. By using the same environment, it will allow your users to sign in to VPO using the same credentials for accessing their email.
With VPO, we provide a subscription of Office 365 for each end user. If you already subscribe to an Office 365 plan that includes Exchange, SharePoint, OneDrive and Skype, we will discount our monthly fee. With Office 365, it is your data. You own it. You control it. Moreover, it is yours to take with you if you decide to leave the service.
With VPO delivered in Office 365, you have access to an online browser-based experience and a mobile-friendly experience from your mobile device. VPO enables sharing project information and documentation securely with architects, engineers, vendors, and the client team.
Features for Owners

Data Ownership
Because VPO is powered by Microsoft's Office 365, your data is managed in a single platform. Through this system, it is your data and you own it. Moreover, if you ever decide to leave the service, your data is yours to take with you. That is why we have chosen to deliver VPO in Office 365. Microsoft takes every precaution to make sure your environment is secure and compliant.
By moving management of your entire process to VPO, you can centralize your data to a fully secure and owned platform, mitigating the risk involved with having critical and sometimes sensitive information living across multiple platforms administrated and owned by third parties.
Administration, Training & Support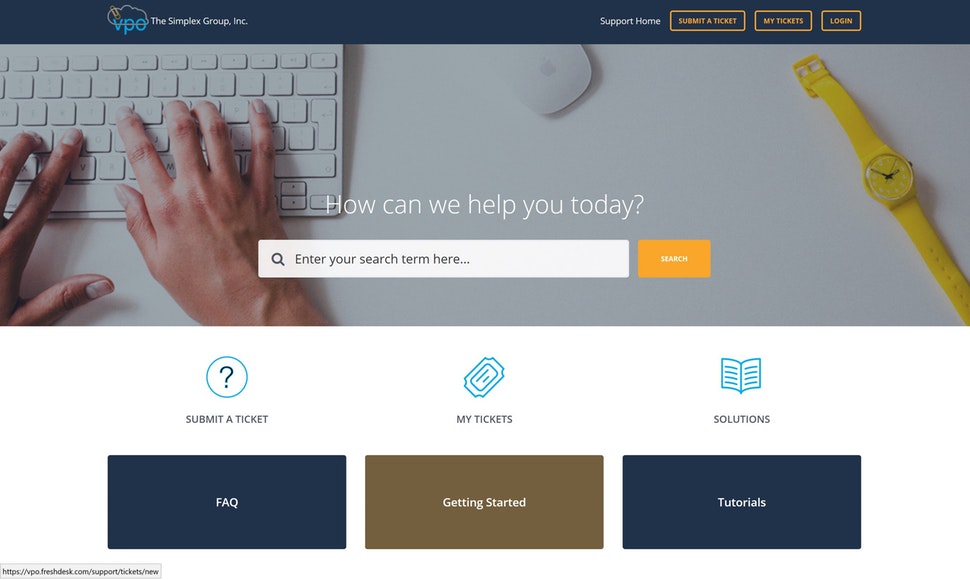 We administer, on-board and support VPO with you and your team. On your first project, we typically deliver VPO within a few days. After notice to proceed, we schedule a kickoff meeting to determine the features and customization needed as well as permissions for the team. You will have a single point of contact who is responsible for setting up and configuring your project site. We turn over the new project to you to review and deliver training to the project team. The training is role-based and very focused on how your team will use VPO.
We deliver our training in an online meeting which is recorded and usually takes about an hour. We may deliver multiple training sessions to groups of users like the Owner, Architect, and Contractors. This way, we can teach each group how to use VPO from their aspect. You can watch the training at any time –and it is especially helpful for when you start using VPO for the first time.
Bid Management
When inviting companies to bid on your projects, it's hard to keep track of whom you've sent a bid request to, whether or not they've received it, and whether or not they will bid on it; and then to provide an easy mechanism for them to submit their bids. With VPO, you can maintain a central list of bidders–including vital information like qualifications, certifications, and more, that will assist you in organizing the bid process. We even offer a unique service of managing the bid process for you, allowing you to focus on other important work. As your bidders prepare their documents, they use your secure environment with role-based security. As they upload their bids, automatic e-mail notifications are sent to the appropriate people.
RFIs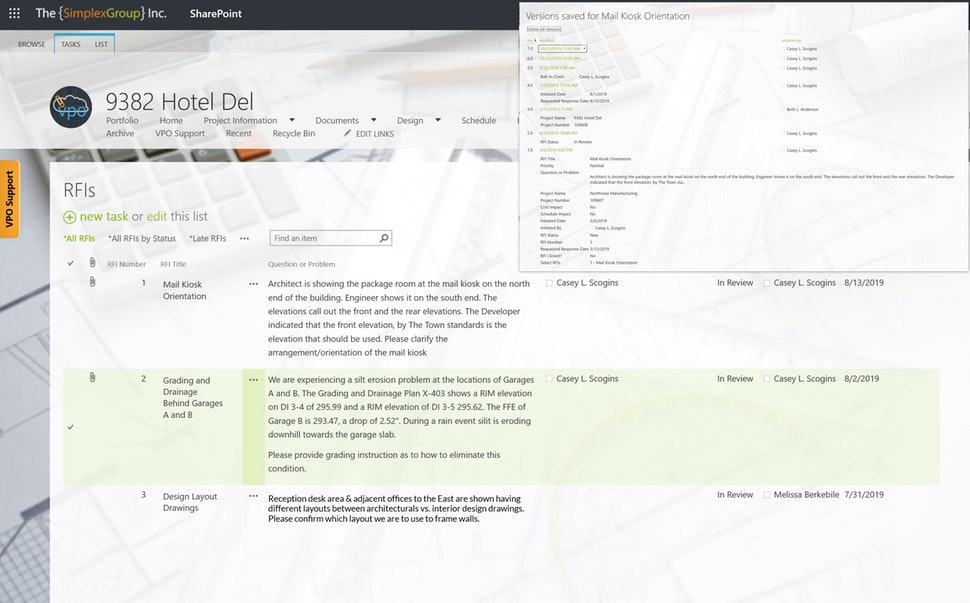 It is also critical to stay on top of Requests for Information (RFIs) in real-time; otherwise, RFIs go unanswered, which create major delays on your project. Having the whole team–office workers and those in the field–on the same Web-based construction management system facilitates centralized communications for everyone involved in submitting and responding to RFIs.
As team members submit RFIs on the project, the person or group identified as the Ball-in-Court contact–like an Architect or Construction Manager receives an email notification. The e-mail message includes a description of the RFI that's easy to view and consider the question right from your e-mail. The Ball-in-Court contact might be able to provide a quick answer and return it, or they might need input from another team member. By simply reassigning the Ball-in-Court to another contact on the team, they can direct it to the appropriate person next-in-line to evaluate and respond. By managing the RFI process electronically, your team has an audit trail with date and timestamp information on any changes made by any user of the system. If there's ever a claim or a dispute on the project, you will know who said what, when, and have a single project record for the item.
Document Management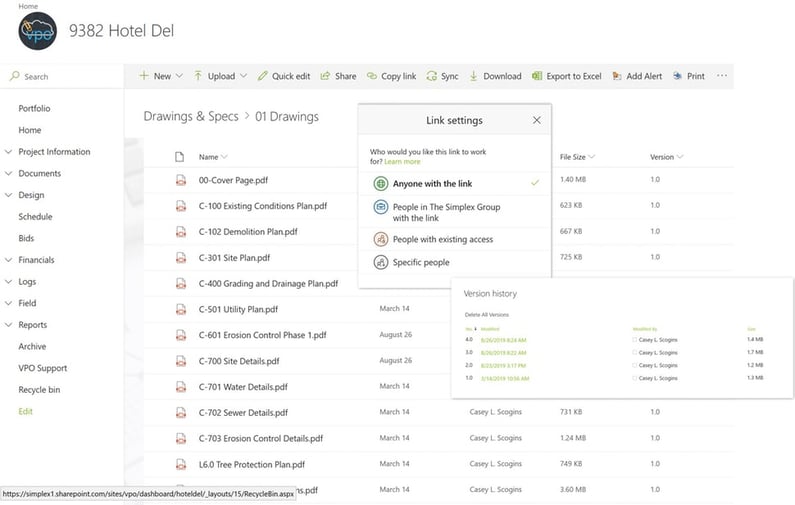 With VPO, all project documents can be stored in the Cloud and accessible from multiple devices like a PC, Mac, tablet, and smartphone. Because VPO is built on a Microsoft Office 365 platform, our customers leverage the out-of-the-box functionality of Office 365 for document management. This includes editing Office documents right from your browser and mobile devices using apps like the Office App or OneDrive app. By having documents stored in VPO, you have enterprise search capabilities that will comb through the contents of a document, not just find the title–including searching PDF documents, no matter if OCR is used in the file or not.
And every time a user edits an Office document, a new version is created in the background. This allows you to keep track of each time someone makes a change to a document. If you don't approve an update that another team member made, you can simply revert back to a previous version–assuming you have the appropriate permissions.
Ask Adobe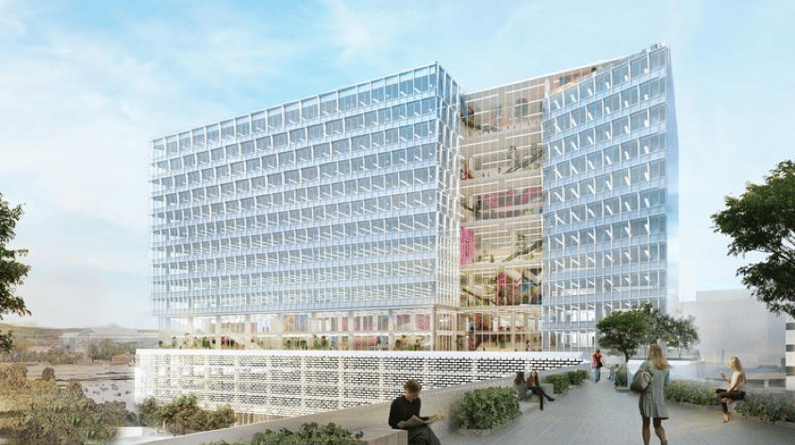 Justina Hyland is director of the project management office at Adobe, headquartered in San Jose, CA. She and her staff of four project managers oversee a $1 billion portfolio of properties. Nearly 100 percent of expansions and renovations of leased and owned space is overseen by her team.
There are always active projects in the pipeline. Major projects include a $45 million refresh in Seattle, a $700 million 18-story tower with pedestrian bridge at their corporate headquarters, and a new $90 million building in Lehi, UT. They just completed major projects in Singapore and Milan. The corporate headquarters project alone has more than 100 consultants.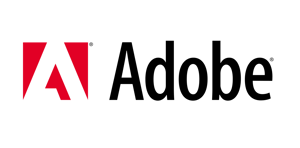 As you would expect, Adobe has developed strong design guidelines for their new workspaces. They constantly research what works and what doesn't, in order to foster collaboration and meet employee expectations - whether in Hong Kong, London, or New York. 
SAP integration was a major concern for Hyland. "Pulling data from SAP can be difficult. The biggest thing we asked VPO to do for us as a base was to take the data that was coming into SAP, and actually bring that into each project site so we could see, by material category, what our spend was. They helped us bring that data in daily, by project, in a deliberate, consistent way.
VPO can integrate with any open-platform ERP like SAP. VPO defines the system that data is entered in, determines the frequency of when it's exchanged with other systems, and develops the data mapping between systems. This ensures that information is pulled, updated, and displayed dynamically between VPO's platform and the existing SAP system. All users across an organization can stay informed and up to date - all within the platforms they are comfortable using.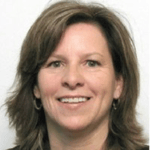 Hyland and her team get 100 percent visibility into their spend, using data to benchmark against projects, something they couldn't do before on a program level. They also receive a complete list of all purchase orders and invoices executed against that project.
What about the hundreds of business partners and consultants that Adobe works with every day worldwide? "We require that all professional services work in VPO - from Cushman & Wakefield to architects, general contractors, and engineers," Hyland answers.
"VPO becomes the primary source of truth for all of our consults. It's the site of record for any drawing and document, for any project, for real-time reference anywhere, anytime."